SPEECH WORKSHOP: WE RESTORE SPEECH TOGETHER
THE DEVELOPMENT PROGRAMME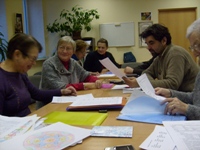 Programme's aim:
 
To provide the conditions for speech recovery after having a stroke, to remove the psychological barriers in mixing with other people.

The programme's structure:
The programme combines the block motivation-resource and the block of correction and development.

What do we during classes for speech development in "Vigor" society?
We carry out the exercises for speech development (separately: sounds and chistogovorka or tongue-twisters)
We practice sounds' pronunciation and how to discern them;
We develop the tongue and lips articulation motility;
We develop fingers and hands fine motor skills;
We carry out the exercises aimed at the development of spatial ideas and movements' coordination;
We carry out written logopedic exercises aimed at reading – writing skills recovery and full scale speech development;
We develop ability to think and to construct your statement clearly;
We discuss and reveal the meaning of information heard, the parables and stories told, their personal meaning.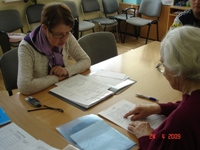 During the classes we also are looking for our own internal strength source and we support ourselves ant others. To accomplish the above mentioned:
We get into the working mood, to overcome difficulties;
We support each other and learn how to support ourselves, to get the feeling "I will succeed";
We discuss the homework-which points tuned to be difficult, where we have succeeded, and where we are getting better;
We find the proof to the fact that Systematic exercises performance does bring the result.
Group classes are run by "Vigor" society" volunteers once in 2 weeks (every second Friday from 2.30pm till 4pm). The venue address: 3 Vidrizhu str.

Why the participants find the exercises useful:
"Every time exercise during the classes make me to overcome something. Today I have managed to pronounce a tongue twister."
"I find everything nice and interesting. I like the fact that I will see everyone and I will say a little bit as well."
"I can express my thoughts easier, without stiffness. The words from my passive vocabulary transfer to active speech."

"I believe that the person can speak clearly and even with inspiration, trying, hearing the words of support and noticing, what results he/she and others are achieving."
(Leading specialist – psychologist Alla Lapshevskaya )