KALEIDOSCOPE OF MEETINGS "WORLD OF MY INTERESTS"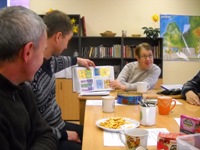 "Kaleidoscope" is about:
– sharing health recovery experience after having a stroke, discussion and approbation of   individual ways of rehabilitation and everyday life adaptation;
– lessons, aimed at individual methods of health rehabilitation;
– providing information on social security and legal support resources for disabled people;
– providing information on various educational lessons and courses for disabled people;
– meetings with different specialists, who will help in health restoration (occupational and speech therapists etc.);
– visiting cultural events, educational excursions;
– celebrations of participants' birthdays and other significant personal dates;
– meetings, dedicated to creativity and participants' hobbies;
– discussions on psychological researches' results, where "Vigor" society's participants have taken part.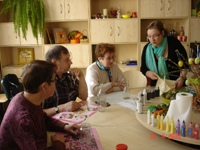 Ways of work:
– group discussions, experiences' and opinions' exchange;
– speeches of some of participants and the invited guests;
– special creativity exercises;
– getting familiar with documentation and various didactic materials.
Group classes are run by volunteers from" Vigor "society once in 2 weeks.